"ALCERA" corundum furnace at high temperature
Our company independent research and development of SX - high temperature 17 corundum furnace is designed according to the requirements of national standards for customer, simple structure, convenient operation, easy maintenance, heat preservation effect is good, fast heating up. Its main body for desktop structure, appearance using electrostatic spraying processing, high temperature resistant, corrosion resistant paint chamber of a stove or furnace, choose high quality raw materials imported from Japan to make aluminum corundum, with excellent chemical corrosion resistance and thermal shock resistance, and high mechanical strength, at the same time with 1600 ℃ between corundum furnace with bladder ceramic fiber board, 1260 ℃ ceramic fiber board, and nano ceramic fiber board as multilayer design method of thermal insulation materials, can effectively reduce heat loss, improve the efficiency of heating, guarantee the outer surface temperature, use more roots at the bottom of the ceramic support bar support bedplate, avoid direct contact with insulation bedplate, guarantee the hearth can carry heavier parts.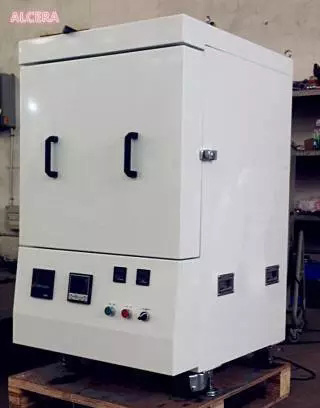 Secondly control system and the furnace for the integration of design, is located in the furnace directly. Automatic temperature control system all operation on the control panel, can be called at any time can be set up curve, control precision of + / - 1 ℃. High temperature time uniformity temperature + 5 ℃. And using paperless recorder automatically record in furnace temperature of the whole process of heating, heat preservation, cooling, paperless recorder recorded temperature data can be read and archived. Equipment is also equipped with overtemperature control (temperature control table), short circuit, open circuit, grounding, current limiting protection, etc. Can change the past type equipment straightforward, it thought, truly the mixing design into human nature.
Ten years, ten years of development, our company has become a research and development, design, manufacturing, sales, service as one of the high-tech enterprises. Company has several provinces and cities across the country set up perfect channel marketing and after-sales service branches, products are exported to at home and abroad, our company has always been adhering to the "to guarantee the quality of science and technology, perfect products" by service aim of leading the industry trend, is the industry recognized furnaces manufacturing industry benchmarking enterprises.